[07 September 2008]
New Affiliate!! Jonas Brothers Daily!
[06 September 2008]
Lots Of Updates Today!!!
There is now a new section called "Special Siggies/Banners" which can be found in the Graphics section. It is currently featuring Nick's 16th birthday!
Added CD/DVD/TV sections to "The Bros".
Added (40)100x100 Icons, (10)50x50 Icons, (1) Wallpaper in both sizes, (2)Siggies, and (3)Bookmarks!
[02 September 2008]
New Affiliate!
I'm working on many different things tonight. Bear with me!
[31 August 2008]
GRAND OPENING! :) Welcome! Be sure to read the rules and enjoy all the graphics! If you would like to be affiliates please let me know! Much, much, MUCH more to come!! Keep checking back!
PS.I'm working while you are looking so if things look weird give me a few minutes and then come back to that page!
Update @15:50
Just added a new affiliate! Big Rob's For Real, check it out!
15 Unique visitors in the first few hours of being open. Not too bad I guess... SPREAD THE WORD!
Also, you can donate to the site. What the money will go towards is a domain, bandwith, removal of banner ads, and contests for the site. All extra money will go directly to the Nick Jonas Change For The Children foundation! Donations are not necessary but greatly appreciated!
20:31
Added another affiliate. Nick J Online!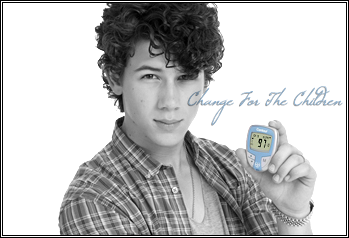 Donate
Donate to Simply Jonas. Money goes toward website/domain costs. Any extra money goes directly to the Nick Jonas: Change For The Children foundation!

Last Update: 09 September 2008